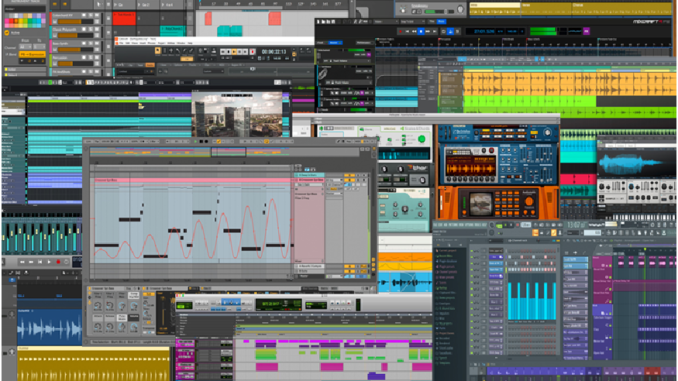 The problem with computer music and setting up your own home studio is the cost. In addition to the investment in terms of hardware, there is also the cost of software dedicated to or assisting in the composition of music, which is also prohibitively expensive.
To mention only the most famous ones, count 300€ for Ableton, 350€ for Reason and 500€ for Cubase.
Even if these programs are incredibly powerful and allow you to perform miracles, not everyone can afford them (especially if you're a student and broke like me).
So I have gathered in this article 6 very powerful softwares which, even if they are totally free, will allow you to find functions almost similar to their paying counterparts.
1) GARAGEBAND (MAC OS AND IOS)
GarageBand is a music creation software developed by Apple in 2004. It has become a must-have for MacOS or iOS users since it is offered for free on all machines. The application allows you to record, mix and share your creations easily. It is even more accessible since its arrival on iOS because you can, for example, play the piano on your iPad or iPhone and synchronize the audio on your Mac.
Even if it's free, the software is extremely complete and lets you mix up to 32 audio tracks thanks to the integrated professional effects. However, Apple may add "smart" in front of all its virtual instruments, the sound quality may disappoint some people. It is still possible to find what you're looking for by downloading other packs of instruments, sounds and loops provided free by Apple.
 2) SOUNDATION (WEB BROWSER)
Soundation is a complete music creation software directly in your web browser. To launch the platform, nothing could be simpler, just go to a browser equipped with Flash and access it from the Soundation website. Several offers are available and with the free one, you will have access to more than 700 loops and effects, high quality virtual instruments and up to 10 projects per month.
The software offers a very appealing simplicity of navigation for beginners, while remaining versatile. However, many options such as high-quality export, audio import or automations are only available with a subscription at €1.99 per month. The limitation to 10 projects per month can be a hindrance for the most inspired minds.
3) FL Studio
Renowned among DJs and composers, FL Studio is an audio composition software that supports a host of plug-ins, effects and virtual instruments. It is used by amateur and semi-professional musicians to create high quality rhythms, loops and songs in a simple and intuitive way.
Although it is free software, only the demo version of FL Studio is completely free. You can download the full version from here: https://lisanilssonart.com
4) Ohm Studio
In the field of CAD, the vast majority of software programs only allow you to work on a single workstation, making it difficult to share and send projects. In order to answer this problem, the French editor Ohm Force and its software Ohm Studio integrates collaborative and community composition functionalities. Musicians and composers can then compose songs together, remotely and in real time.
The User Interface that OHM Studio provides is very handy and easy to use and also provides collaborative functions such as project management and the chat room allow almost instantaneous management and editing between several users.
5) Reaper
If Reaper is certainly one of the best feature/price ratios in this selection, it owes it to its long list of audio recording, editing and mixing features.
This Digital Audio Workstation provides you with a number of audio and MIDI track support and has very good compatibility, whether with controllers or with a host of VST, VST3, Audio Unit, DX and JS effects or instrument plug-ins.
Thus, the software is mainly appreciated for the wide inbuilt Plug in Support and the ReaPlugs Suite among others a multitrack pitch, effects like delay or reverb' as well as several synthesizers. It is also used to extract a soundtrack from a video.
6) Reason
Designed for both composition and live performance, Reason adopts a hardware-oriented philosophy. Indeed, this software emulates a rack of controllable studio instruments and effects whose virtual cabling can be fully configured by the user. It includes a complete quality mixer and among its racks, polyphonic synthesizers, rhythm samplers, equalizers, a pattern sequencer and numerous effect racks.
Reason provides you with recording,editing and mixing of umlimited audio and MIDI track support. It is also compatible with external VST, VSTI and Audio Unit plug-ins under macOS. The music composition process is made more intuitive thanks to its neat and pleasant interface.
7) Ableton Live
Ableton Live is a music production software dedicated to live audio composition and arrangement.
It has two main interfaces that can be used on two monitors: a Session screen to manage clips and organize them into scenes, and the Arrangement screen to record live scenes and arrange them according to different effects, parameters and built-in or external plugins. Both VST and Audio Unit standards are supported here.