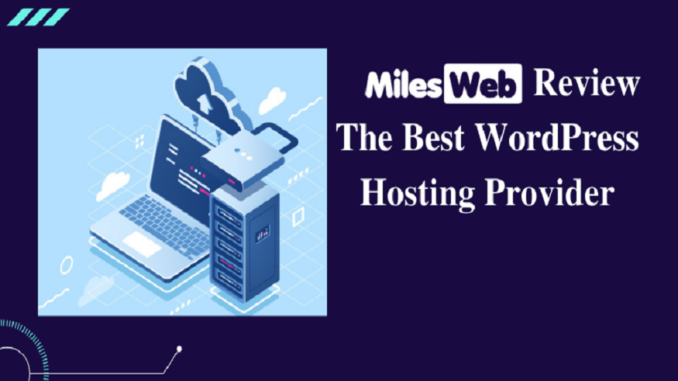 Do you want to get your site hosted with a web host that is both dependable and affordable?
Is that why you are planning to opt for MilesWeb to host your WordPress site?
Today, settling down on a web host is a challenging task as you have to pick one from the numerous web hosts out there in the market.
It is necessary that the web host meets all your website needs and fits your budget.
Here, we've picked MilesWeb and will be giving you an overview of its cheap WordPress hosting in the below review.
MilesWeb in Short
MilesWeb is an Indian web hosting company, which started its business in the year 2012.
Today, MilesWeb has become a leading web hosting company in the market, known for offering quality web hosting services at affordable prices.
MilesWeb has served about 30,000+ customers around the globe.
Their services includeshared hosting, reseller hosting, WordPress hosting, cloud hosting, VPS hosting, cheap Windows hosting and dedicated server hosting.
Managed WordPress Hosting by MilesWeb
MilesWeb is well-known in the industry for providing WordPress optimized hosting. They take care of all the server management tasks so that you can focus more on growing your business.
With managed WordPress hosting, their expert teamwill handle all the technical stuff, updates related to WordPress, server optimization, monitoring, etc.
WordPress Hosting Pricing & Plans
When it comes to pricing, MilesWeb is not high-priced.
Their managed WordPress hosting plans are quite affordable if weighed against other web hosts out there in the market.
With MilesWeb currently, you can save 80% off ona three-year subscription to their WordPress hosting plans.
MilesWeb offers three plans, Solo, Prime, Multi.
Solo
The base plan is Solo, which costs just Rs.40/mofor its three-year subscription.
The Solo plan is the best option if you want to host a blog or a low-traffic website.
It lets you host onewebsite.
1 Free .shop domain (If you buy the Solo plan for 1/3 years)
10 email accounts
1GB SSD disk space
Unlimited bandwidth
Free SSL certificate
Website Builder
Control Panel + 1 Click Installer
WordPress Optimized
3 MySQL DB's.
Prime
The mid-level plan is Prime, which costs Rs.130/mofor its three-year subscription. You get to host 1 website with the Prime plan of WordPress hosting.
The additional resources you get are:
1 Free .com domain (If you buy the Prime plan for 1/3 years)
Unlimited Email Accounts
Unlimited SSD Disk Space
Unlimited Bandwidth
Free SSL Certificate
Website Builder
Control Panel+1-Click Installer
WordPress optimized
Unlimited MySQL DB's.
Multi
The high-tiered plan is Multi, which costs Rs.170/mofor its three-year subscription.
The Multi plan allows you to host unlimited websites.
1 Free .com domain (If you buy the Multi plan for 1/3 years)
Unlimited Email Accounts
Unlimited SSD Disk Space
Unlimited Bandwidth
Free SSL Certificate
Website Builder
Control panel+1 click installer
WordPress optimized
Unlimited MySQL DB's
Trust me! It is the best cost and features for hosting your WordPress site.
Also, with all the WordPress hosting plans you get, 24/7 dedicated support, a 99.95% uptime guarantee and a 30-day money-back guarantee.
MilesWeb's WordPress Hosting Features
Let's know about the WordPress hosting features of MilesWeb:
WordPress Preconfigured
To make the management of your site easyMilesWeb offers a preconfigured hosting platform for WordPress.
Every WordPress installation is done with various certified themes and plugins.
It helps in reducing the efforts to set up and configureWordPress to run ideally.
Free SSL Certificate
You get a Let's Encrypt SSL certificate with your WordPress hosting plan.
It helps to keep the website data safely encrypted every time it it gets transferred between you and your website visitors.
Fast SSD Storage
MilesWeb offers high-performance solid-state drives that
help you to get up to 200% better performance on your websites than the traditional
HDD drives.
Data Center Choice
MilesWeb is immensely growing its presence in the global market.
The same goes in terms of their data centers. MilesWeb has state-of-art data centers in six locations worldwide.
The USA, UK, Canada, Australia, Singapore and India. It delivers the highest stability and performance to your websites.
The hosting infrastructure is built with advanced and reliable technologies available in the industry.
Automatic WordPress Updates
MilesWeb offers automatic WordPress updates, with their WordPress hosting platform. You don't need to check and install the updates manually.
The plugins that are present at the backend of your site will automatically upgrade your WordPress to the latest version
Some Techie Features of MilesWeb's WordPress Hosting
With the fully managed WordPress hosting of MilesWeb, you get the highest performance and speed to your site.
It is becauseof the high-end technology utilized by them.
● Caching
Caching is basically the process of storing copies of files in cache, or temporary storage location, so as they get accessed quickly.
With MilesWeb, you get a caching tool to enhance the speed and performance of your WordPress site.
● HTTPS
When you opt for MilesWeb's WordPress hosting, you have enhanced security from their side.
The sites hosted at MilesWeb have been configured automatically with
HTTPS.
● Cloning
The cloning tool allows you to create a replica of your WordPress site with all
the databases and settings. For example, cloning is done for testing of a
website.
● Cloudflare Railgun
Cloudflare Railgun ensures that the connection between the web server and the Cloudflare network is speedy.
● CDN
With WordPress hosting, you get an integrated CDN. The main advantage of CDN is, it helps to expand the reach and performance of your site to enhance the experience of your visitors globally.
What are the Payment Options?
MilesWeb offers a range of payment options for its customers to avoid their inconvenience.
You can make the payment through Paytm, PayPal, RuPay, G
Pay, credit cards (Visa, Maestro).
How is their Customer Support?
A good web host is judged by how responsive its support is.
Consider a scenario if your website has encountered some issue. It's time when you contact someone who will resolve the issue as fast as possible.
Nonetheless, MilesWeb provides you the best support and is ready to resolve the issues via email or live chat.
MilesWeb, being an Indian web host, offers 24/7 support.
Check out their customer reviews here:
Summary
MilesWeb offers the best plans and WordPress-specific features to power your site.
It is the best option if you are looking for quality managed WordPress hosting at economical costs.
Overall, their performance, pricing and support are good. But, in the end, the choice is up to you.