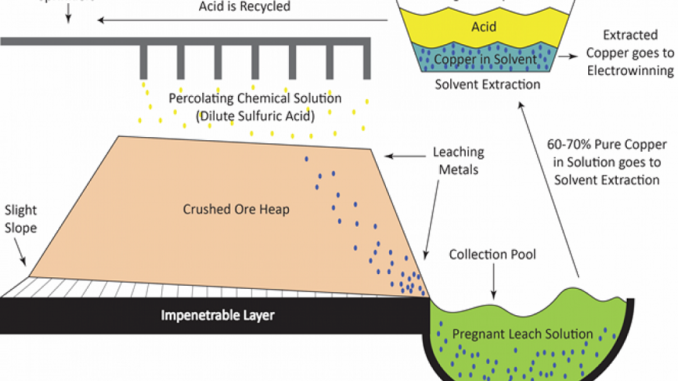 The extraction process of copper is complicated. The process begins with the mining of ore. Hydrometallurgy and pyrometallurgy are the chemical metallurgy methods used for oxide and sulfide ores of copper, respectively. Numerous steps are involved in obtaining 99.9% pure copper cathode.
The advantageous point of using copper is that copper scrap and copper alloys can be melted, purified, and recycled for future utilization. Around 50% of copper supplies are fulfilled by recycled copper. The recycling procedure is similar to the extraction process, but it has fewer steps. In the year 2010, 770,000 metric tons of copper worth nearly 6 billion dollars were recycled.
Copper is often found in the sedimentary layer. This is because the high temperature of volcanic magma creates hydrothermal veins. It causes the heat to escape near the uppermost layer of the earth's crust. The copper mining process is a bit more complicated. But significant advancement made in mining equipment and technology has facilitated the production by the copper mining industry.
Alloy formation                                                                       
Copper can easily combine with other elements to form alloys. You might know the first alloy from combining copper and tin was bronze. Bronze is commonly used in the manufacturing of coins, hardware mounts, ceiling or wall panels, furniture trim, and many other sources. The discovery of bronze gives rise to the Bronze Age in history. Later on, another alloy from the combination of copper and zinc was introduced, known as brass. Brass was tougher and stronger than pure copper.
Copper Production
Before taking into use, copper ores go through various physical and electrochemical processes. Around two-thirds of copper is found in igneous rocks, while the remaining one-quarter is obtained from sedimentary rocks. If we talk about the most profitable copper exploration companies like Solaris exploration, the large-scale porphyry deposits with chalcopyrite mineralization have huge significance. The open-pit mining method is more often used to extract copper ore. Several processes like mining, grinding, concentrating, roasting, smelting, conversion of matte, and anode casting are involved in obtaining usable metal. The copper exploration companies like Solaris Resources and Glencore are doing great in copper exploration.
Here are some major mines of copper:
Taseko Mines Ltd. 
Sector: Non-energy Metal
Industry: Mining
Headquarter: Toronto, Ontario, Canada
This mine is the second-largest open-pit copper and molybdenum mine of Canada headquartered in Vancouver. This mine produces 140 million pounds and 2.5 million pounds of copper and molybdenum, respectively, every year. The company is expertise in mine development and operations of copper.
Lundin Mining Corp. (LUN.TO)
Sector: Non-energy Metal
Industry: Mining
Headquarter: Toronto, Ontario, Canada
The company is currently operating mines in Brazil, Chile, and Sweden, the United States that produce several base metals, including copper, nickel, and zinc. This diversified base metal mining company is involved in the mining, exploration, and development of mineral properties.  
In the End
The copper industry is itself investing much in innovation and sustainable solutions for copper. With modern-day equipment, the process has become efficient and cost-effective. Also, it has reduced the production of waste along with decreased chemical exposure.